EUR/JPY - Bottoming in Short-Term May Suggest Extension of Rally from June/July
The general long-term trend in the EUR/JPY has been upward, however the last 4-5 months have seen more sideways action.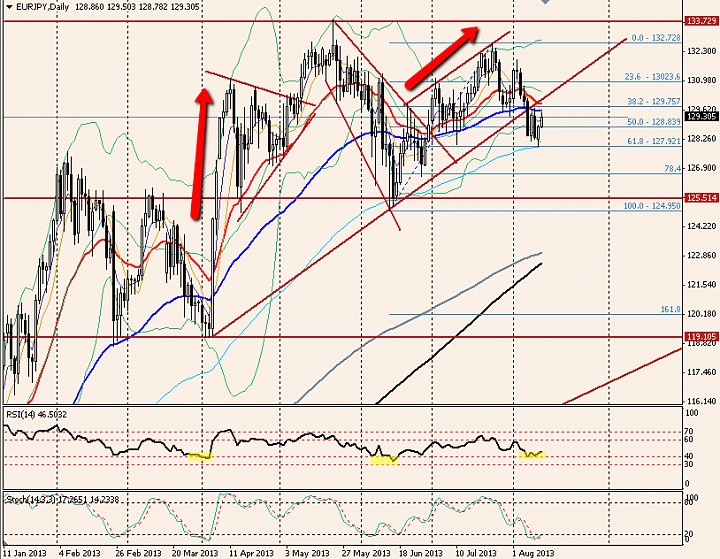 Though we do have a trendline that has been broken recently, I am drawn to 3 important points in the long-term chart.
We are at the 61.8% retrace of the swing from the 125 handle to 133.70 high, which could be a level at which we find support. There is a confluence with the daily 100-EMA there as well (yesterday's lows).
The RSI has bounced up off the 40 level, the third time now that RSI has been unable to get to the 30 oversold area. The past two times, when it bounced off the 40 level in the RSI we went for nice sustained rallies.
The Stoch indicator meanwhile has hit a cycle low and looks to be turning upward, an indication that again we may be at the bottom of the current downswing.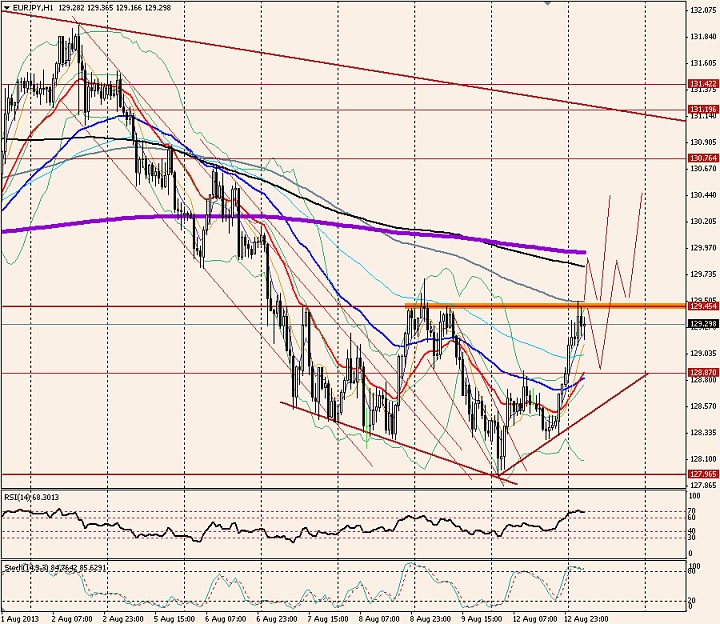 Zooming into the 1-hour time-frame, we see that:
The pair (after a late surge on Monday) tested resistance at 129.50, which coincides with the 200-EMA (in gray) in this time-frame. 
RSI here has reached the 70 level and Stoch is at its cycle high which portends a decline.
However, after a period 3-session period in which the pair showed bearish structure, we now look to have the start of some bottoming + the RSI managing to reach the 70 level (a sign of bullish impulse).
Granted the pair could go the complete opposite way, and we get a bounce down off this level and a push back towards the lows near 128 and then 125.50 (the first sign of trouble will be if the 128.90 level fails to act as support).

The Plan:
My thinking then is that based on the clues in the daily, that the uptrend in this pair may resume, and I will therefore be looking for opportunities to buy any dips.
One option is to see if we have a retrace here at the 200-EMA with a move back down to the recently broken resistance turned to support level of 128.90.
A second option or scenario is that the pair simply breaks through 129.50 at which case it may make sense to buy the breakout (though the momentum indicators will be quite overbought) or wait for a pullback to the 200-EMA acting as support.
We should also be alert to the macro event risks that are coming up for the EUR, which "should" be supportive if the data comes in line with expectations.

- Nick