GBP/AUD - Flag Pattern Complete Before Continuation?
The action in forex today (Wednesday) has been predominantly focused on the Aussie and Kiwi, as they have come under pressure vs the JPY, the USD and the GBP.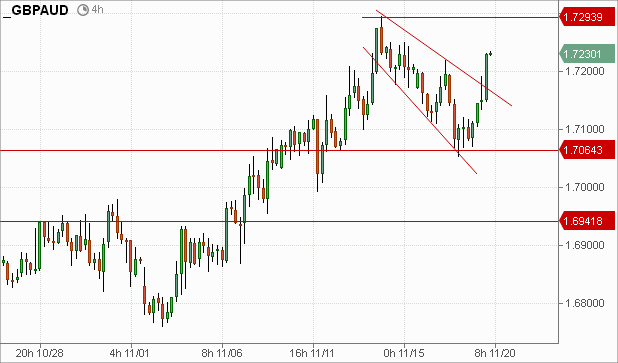 In this 4-hour chart we see that the Pound has had a strong run against the Aussie throughout this month, rallying from a low near 1.6760 all the way to 1.7295.

That 500 pip rally has now had a fairly nice correction, back down to 1.7065 and has found support, and made a move through the recently established downward sloping resistance trendline.

Can this be a flag/wedge pattern before we have continuation?

If so, we would be looking for a break of the 1.73 handle, and then a retest of that level as support.

Such a move should be predicated on softness in commodities as well as any data that suggests that the UK continues to perform better than anticipated.
On the flip side, a failure to reach the previous high could set up a topping action, in which case the 1.7065 level would become a critical level, and could form the neckline of any double top like pattern.